Preamble:
The U.N. General Assembly adopted a resolution, sponsored by India and supported by more than 70 countries, declaring 2023 as the International Year of Millets to increase public awareness on the health benefits of Millets.
The nutrition values of  Millets are really high and can meet some of the biggest nutrition needs. Millets were the staples in many of the countries in Africa and parts of Asia. Millets also fit some of the biggest global health food trends. India currently has around 14 million hectares of land under millet cultivation and produces around 14 million tonnes a year with Rajasthan, Maharashtra, and Karnataka leading in millet farming. The country grows close to a dozen varieties of Millets.
The real worry for small farmers in Provincial India is the absence of access to stable markets and government support, disorderly markets, unnecessary brokers, minimal vertical cooperation between makers, processors and buyers. Hence, improving supply chains through economies in enhancing its storage facilities,  transportation and marketing is required.
IS360's Initiative:
Under this background, India Startup 360, in their next edition of Expo has taken the initiative to boost the Millet Value Chain by bringing all stakeholders on a single platform. India Startup360, in collaboration with Nutrihub of Millet Research Institute, Hyderabad is organising 10 days Expo exclusively on Millet Value added products from 25th October to 2nd November 2021.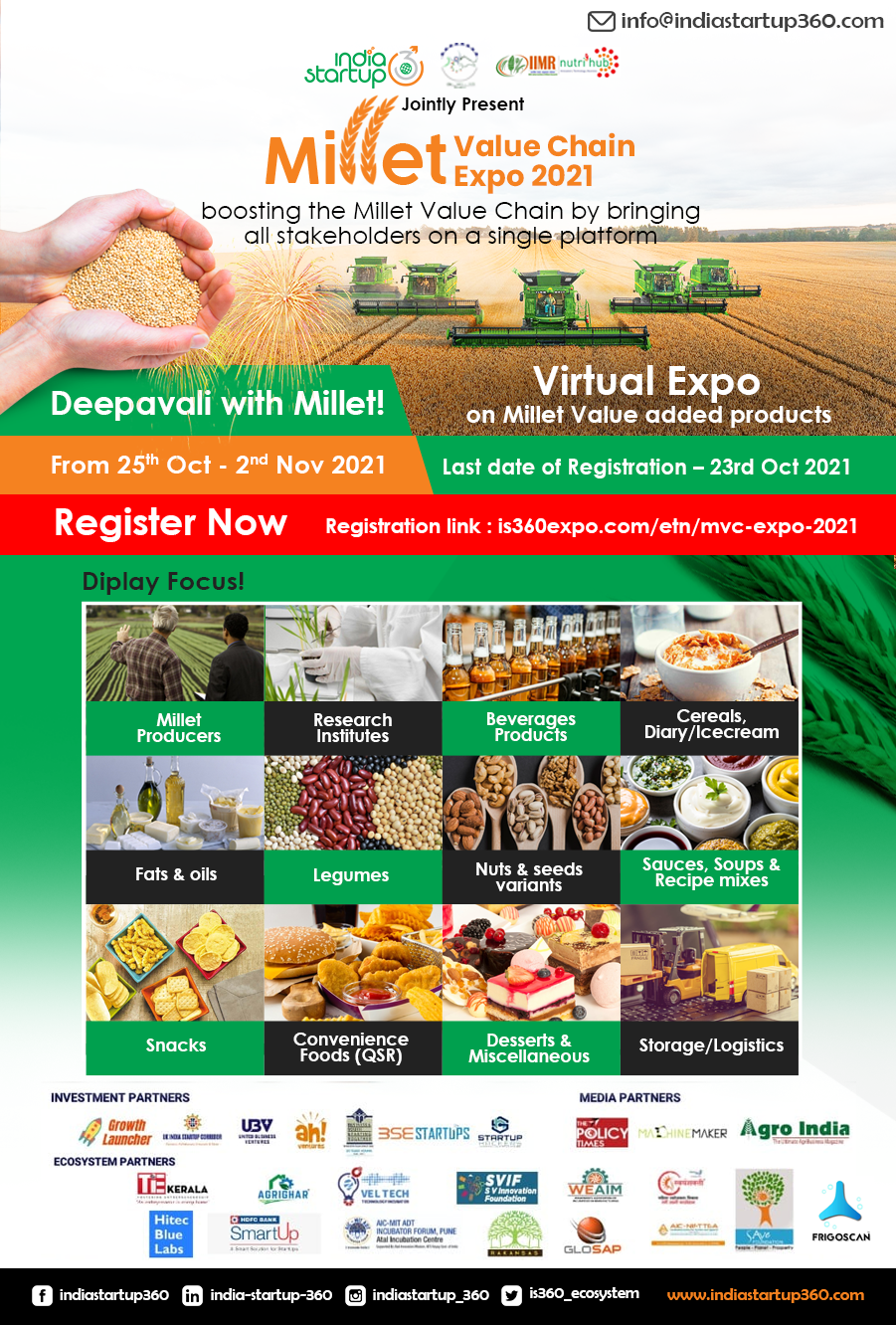 Who Should Attend Expo?
Various Stakeholders like Farmers, FPOs,  large producers, Researchers, Policy Makers, Manufacturers of Food products, Machinery Manufacturers, Exporters of Millets, Millet based products, Food Technologists, E Commerce portals, NGOs, Nutritionists, Dieticians, Food Bloggers, Chefs, Warehousing, Transport and Logistics Companies will take full advantage of the event.
STALL BOOKING CLOSED FOR THIS EXPO!
Important Dates:
Registration Starts for IS360 MVC Expo 2021 – 18th September 2021
Last date of Registration – 23rd October 2021
Last date for receipt of Digital Collateral – 23rd October 2021
Dry Run and Instructions to Participants – 24th October 2021
Expo Dates (Inaugural session at 4.00 PM IST) – 25th October to 2nd November 2021
Display Focus:
Millet Producers
Research Institutes
Beverages Products
cereals
Dairy/Ice Cream
Fats and oils
Legumes
Nuts, and seeds variants
Sauces, soups, and recipe mixes
Snacks
Convenience foods (QSR)
Deesserts; and miscellaneous
Storage/Logistics
Program Schedule:
25th October 2021
26th October 2021
27th October 2021
28th October 2021
30th October 2021
American – Pizza, Burger etc
31st October 2021
Bakery Products – Cookies, Wafers, Chaklis, Chips, Bread, cakes
2nd November 2021
Ice Creams & Beverages

Closing Ceremony
STALL BOOKING CLOSED FOR THIS EXPO!